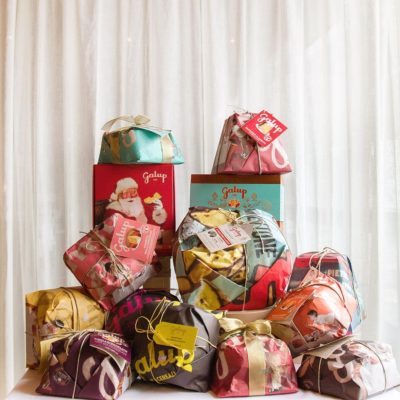 Panettone is a traditional Italian holiday sweet bread originated in Milan in the 20th century.
Legend has it that when the Duke of Milan's cook was asked to prepare a delicious banquet for the duke and other nobles, he made dinner but burnt the dessert in the oven. He was at a loss on what to do, then the kitchen boy Toni suggested he serve the simple sweet cake he had made for himself in the morning using flour, butter, eggs, lime zest, and raisins. Because the cook didn't have another option, he offered it to the guests and to his relief, the cake was a hit. Since then, it has become a holiday favorite in Europe, Africa, South America, and beyond. The name is derived from the Italian word "panetto", a small loaf cake. 
Zupan's is proud to carry a variety of Panettone this holiday season from both Milan and Torino. Enjoy it with hot chocolate, your favorite liquor, or toast slices and serve on a cheese board or as a replacement for coffee cake at breakfast. It is also delicious when used as bread for French Toast or as a dessert with a chocolate sauce. 
Galup Panettone

The original panettone from Torino, Galup was born in 1922 after Pietro Ferrua and his wife Regina took over an old baking facility, which quickly became the most popular pastry shop in town. Galup created their own original recipe that features a lower, squat round panettone with a hazelnut glaze. The production of one panettone takes 3 days, rises for 40 hours, and uses their own local wild yeast, which is a descendant of the bakery's original yeast from 1922 and has been fed with flour and water every four hours ever since.
Cherries & Chocolate
Classic
Pears & Chocolate
Fratelli Motta
Our Sicilian panettone is created by Fratelli Motta. Owned by two young brothers Piero, the creative and dreamer, and Salvo, the businessman, together they decided to create the things they like the most, biscuits and cakes from their motherland, Sicily. Sourdough yeast, free-range organic eggs, Italian flour, and passion are the ingredients behind their artisan products. 
Glazed Raisins & Zibibbo
Chocolate Chip
Jumbo Panettone

A perfect piece for your holiday party or Christmas gathering, this panettone weighs in a 22 lb.
Augusta Panettoni:
Started in 1945 in Milan by a master pastry chef, custodian of the traditional "Panettone Milano" recipe. Today, as then, the master bakers at Augusta are the custodians of the secret of the special leavening agent, which it mixes with the best butter in Europe, exquisite candied fruits and the best quality raisins, together with other first choice ingredients. The dough is left to rise naturally, then cooked slowly and carefully and allowed to cool for a full twelve hours, giving the cake its unique taste and flavor.
Classic Panettone

Mini Panettone