Pasta, we all love it. A versatile food that can be made a variety of ways that is both comforting and delicious. Dress it up and make it fancy or go the simpler route with a drizzle of extra virgin olive oil or a sprinkle of parmesan.
At Zupan's, we carry over 100 pasta varieties including artisan pasta made with heirloom wheat, classic Italian cuts, gluten-free noodles & more! Check out our pasta cooking tips, pairing suggestions, and learn more about some of our favorite artisan pasta makers.
Chef John's Pasta Cooking Tips
Pasta needs room to move around

while

c

ooking. It is always best to have more water than less in your pot.

For each

pound of pasta

,

we recommend 2 gallons of water and

3 tablespoons of salt

.

Boil your water, then add salt.

Save a bit of the pasta water to add to your sauce before straining. The sauce absorbs the

starch

from the water making for a richer pasta.

Strain

your

pasta then dump into your sauce

. Never rinse pasta.

Have

your

sauce ready before

the

pasta is done

. P

asta s

hould never

wait

.

Undercook the pasta and let it finish cooking in the sauce

.
Undercook vegetables when adding to pasta and add some of the vegetable water when you combine the ingredients.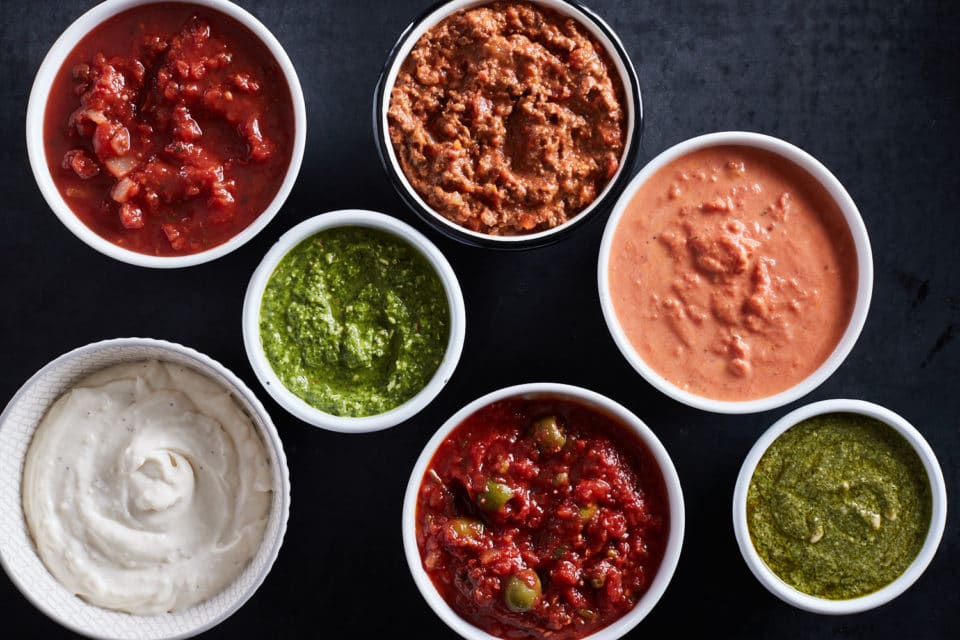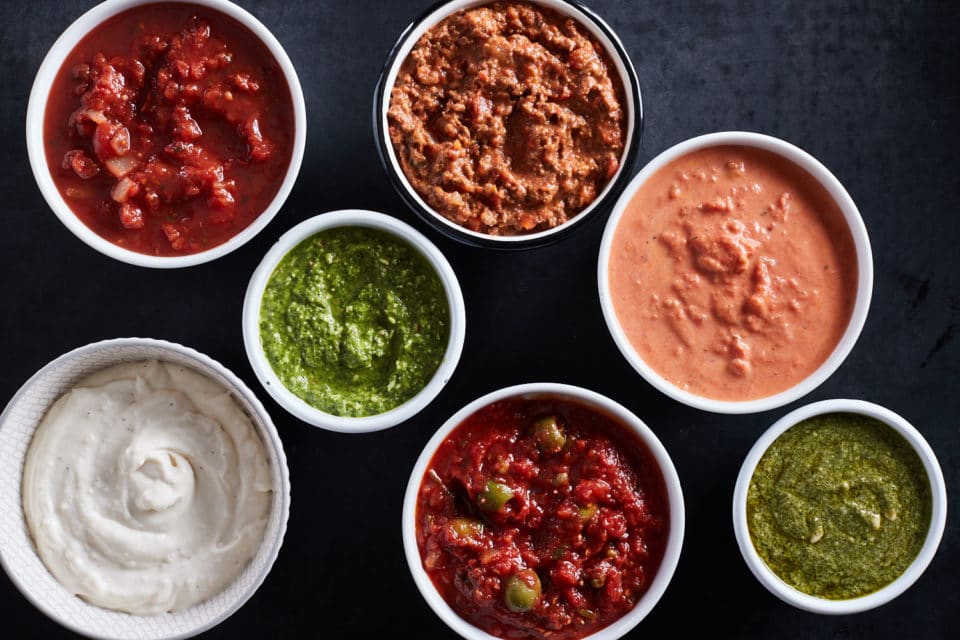 Sauces:
Zupan's carries a variety of fresh-made pasta sauces in our deli to pair with your favorite noodles. Wondering how to select the best pairing? Chef John recommends pairing heartier sauces with wide, larger noodles and more delicate sauces with thinner noodles.
Alfredo: a creamy and rich pasta sauce created with parmesan cheese, milk, cream, butter, cream cheese & onions. Best paired with fettuccini, linguine, macaroni, or tagliatelle.
Basil Pesto: Traditional pesto made with basil, olive oil, Romano cheese, garlic & pine nuts. Pairs well with croxeti, bavette, trenette, trofiette, or busiate.
Arugula Pesto: A slightly more bitter flavor profile than basil pesto with arugula, almonds, parmesan cheese, garlic, lemon juice & olive oil. Delicious on pasta and potatoes.
Vodka Sauce: Made with crushed tomatoes, basil, cream, vodka & garlic. This sauce pairs well with pappardelle, tagliatelle, and tube noodles such as penne, rigatoni, and ziti.
Bolognese: A meat-based tomato sauce that is slowly cooked with heavy cream, white wine, carrots, onions & seasonings. Best served with pappardelle, tagliatelle, spaghetti, or fettuccine.
Puttanesca: Hearty tomato-based sauce with a little kick. Made with onions, anchovies, garlic, white wine, capers, Kalamata olives, basil & chili flakes. This sauce pairs well with spaghetti, penne, bucatini, linguine, and vermicelli.
Marinara: The traditional tomato-based pasta sauce with garlic, basil, onions & oregano. Marinara pairs well with long, skinny, and slick noodles such as spaghetti, linguine, vermicelli, and capellini.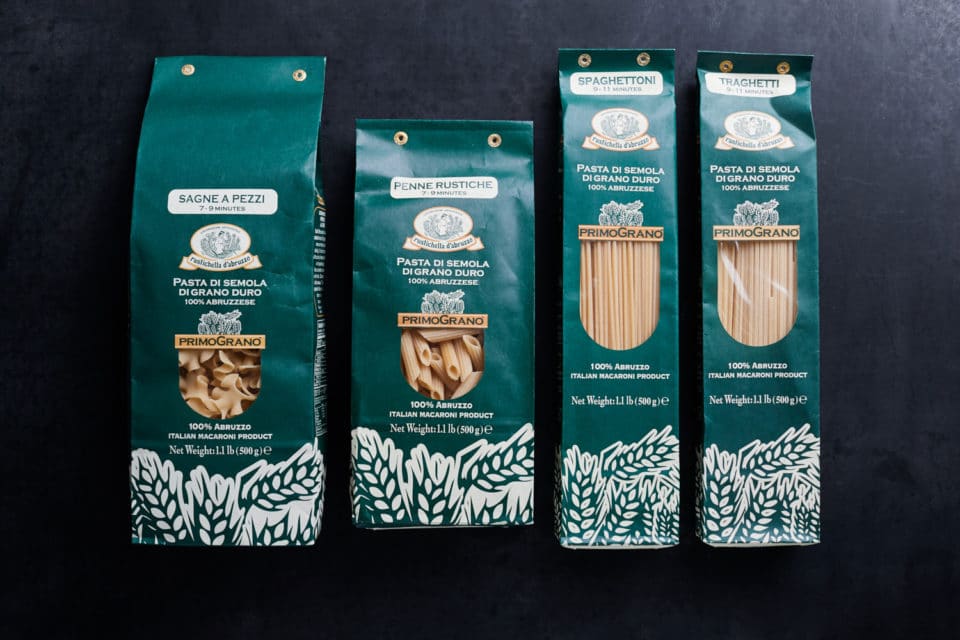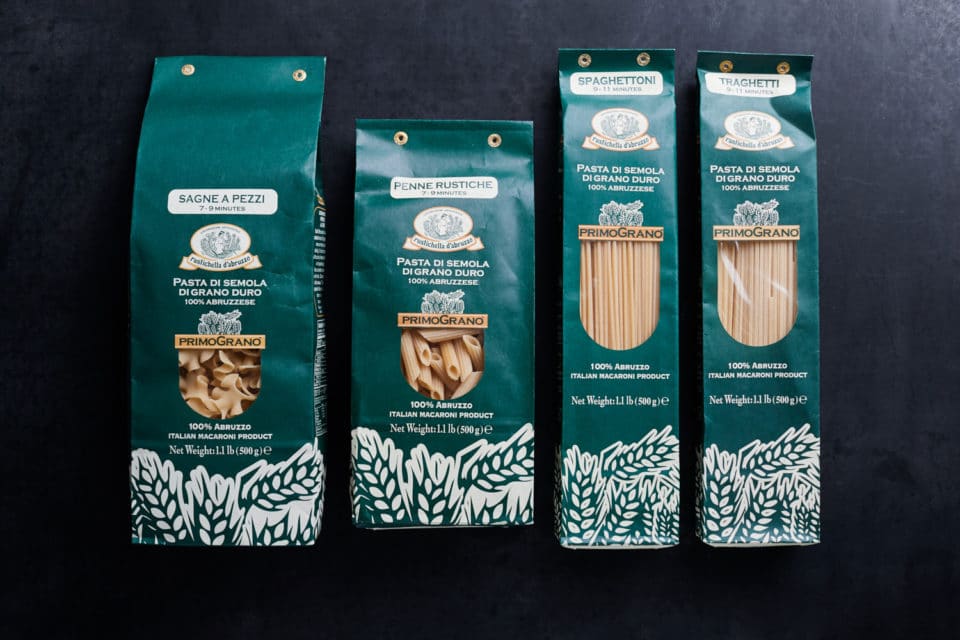 PrimoGrano
by Rustichella
:
Translated in Italian as "first grain" PrimoGrano pasta is made with 100% durum wheat from Abruzzo, Italy. Gianluigi Peduzzi, Rustichella d'Abruzzo's owner, and master pasta maker wanted to bring back the taste and authenticity of pasta made with this distinct wheat, just as his grandfather had done at the turn of the last century.
Each November Gianluigi and a small group of farmers plant 148 acres of three heirloom wheat varieties. The wheat is harvested in early June and immediately taken to a mill where it is ground into semolina used to make traditional Abruzzo shaped pasta – both short and long.
Created in just a single-batch once a year, PrimoGrano has a soft texture and unique flavor. This pasta is best drizzled with extra virgin olive oil or a light sauce, allowing you to taste its unique flavors.
Learn more about PrimoGrano.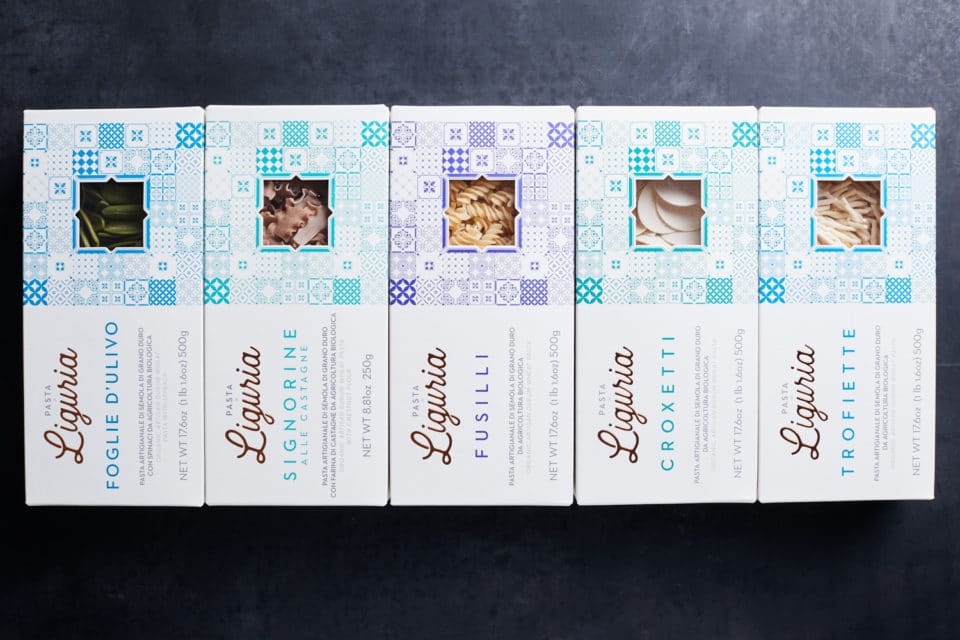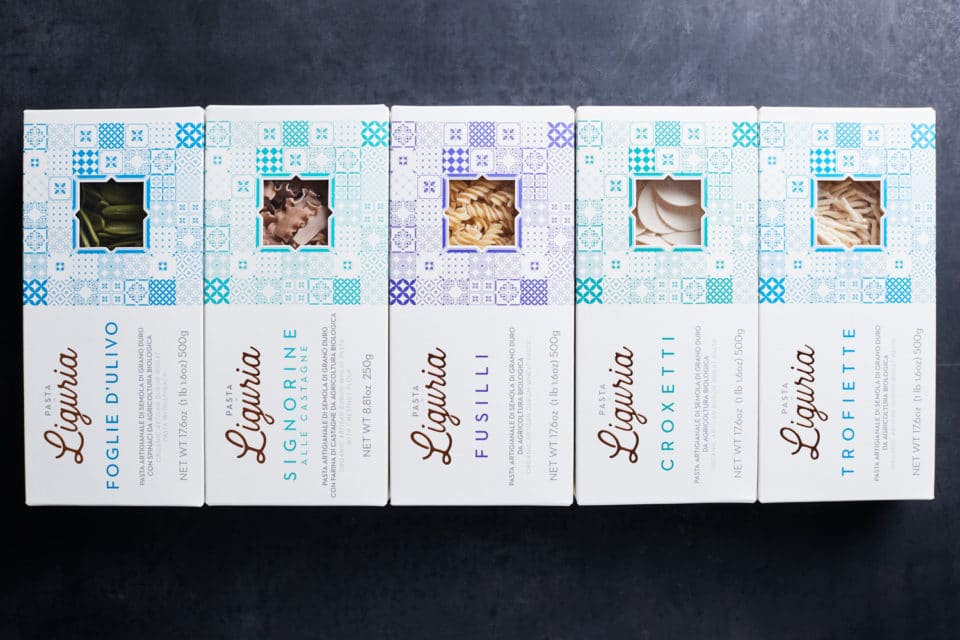 Pasta di Liguria:

Created in Liguria, one of the smallest coastal regions in Northwest Italy, this handmade organic durum wheat pasta is created with local Ligurian ingredients. Headed by two brothers, Pasta di Liguria is a family-run business passionate about preserving the centuries-old Ligurian pasta tradition.
Featuring:
Foglie d'ulivio: Created with spinach, this pasta showcases the color palette of the olive trees that are abundant on the Ligurian coast. Pair with a pine nut sauce to experience its delicious flavors.
Croxetti: This flat disc pasta was originally made by pressing the dough under a coin. Perfect for a first-course dish and pairs well with smooth & creamy sauces.
Signorine Fusilli: The classic corkscrew-shaped pasta pairs well with tomato sauces.
Trofiette: This unique shape was created with the purpose of serving with pesto.
Signorine: Created with chestnut flour – a staple in the mountains of Liguria. This pasta is best as a warm and hearty dish paired with wild mushrooms, meat, or cheese sauces.
Learn more about Pasta di Liguria.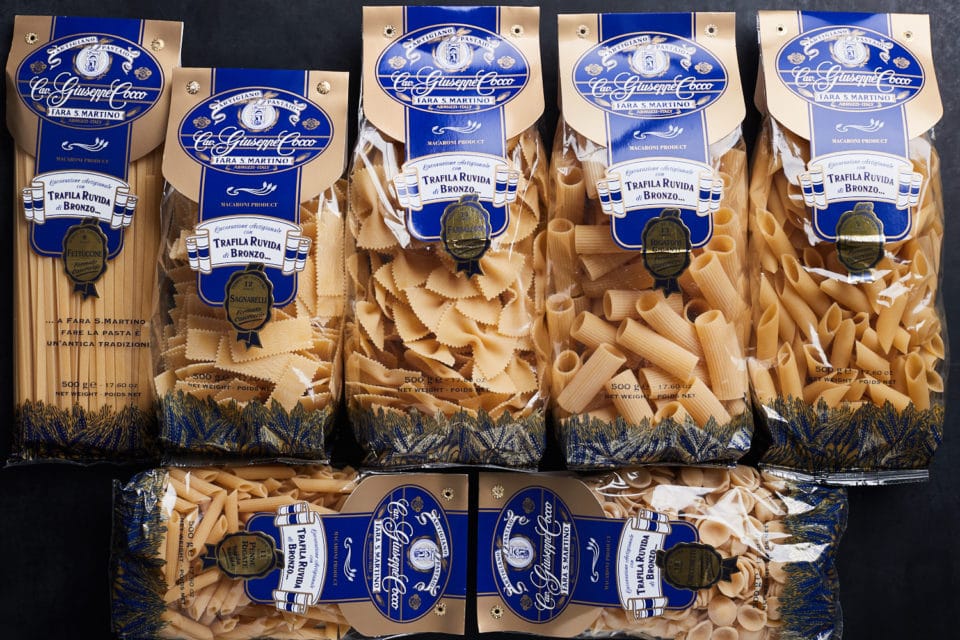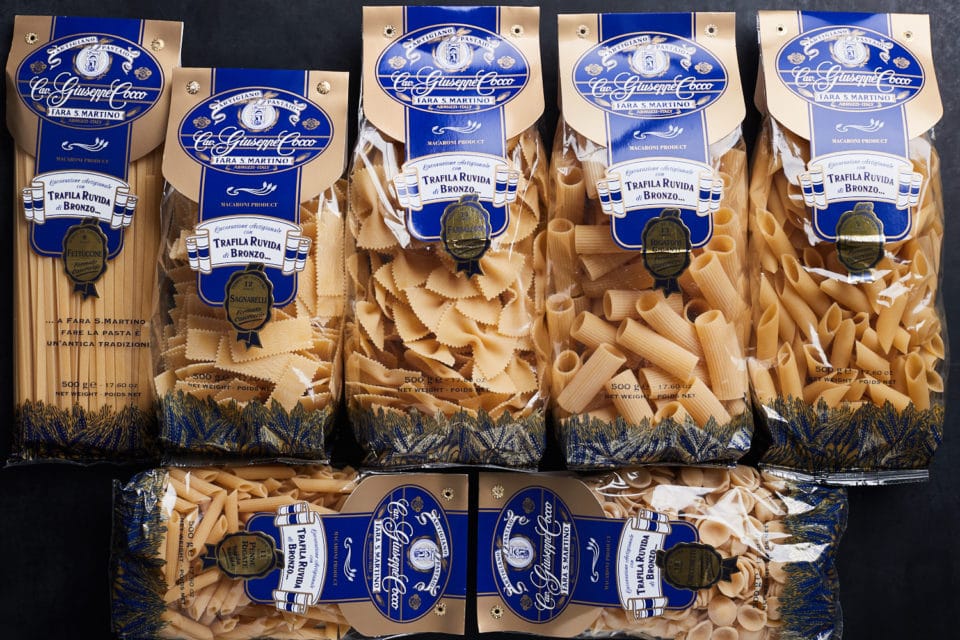 Giuseppe Cocco Pasta:
In 1916, at the age of 14, Domenico Cocco worked in a pasta factory. Throughout his years at the factory he gained a passion for the trade, learning from the "Mastri" pasta makers who shared the four ingredients essential for pasta: wheat, water, air, and processing. Domenico passed on this knowledge to his son Giuseppe who took on his father's passion in 1944, rebuilding the pasta factory after World War II.
Located in Abruzzo, Italy the factory is located along the Verde River, which is fed by natural springs. This water along with the dry–climate, which allows for perfect pasta drying, are two of the factors that make for the unique and high-quality pasta from Giuseppe Cocco. Available in a variety of cuts.
Learn more about Giuseppe Cocco.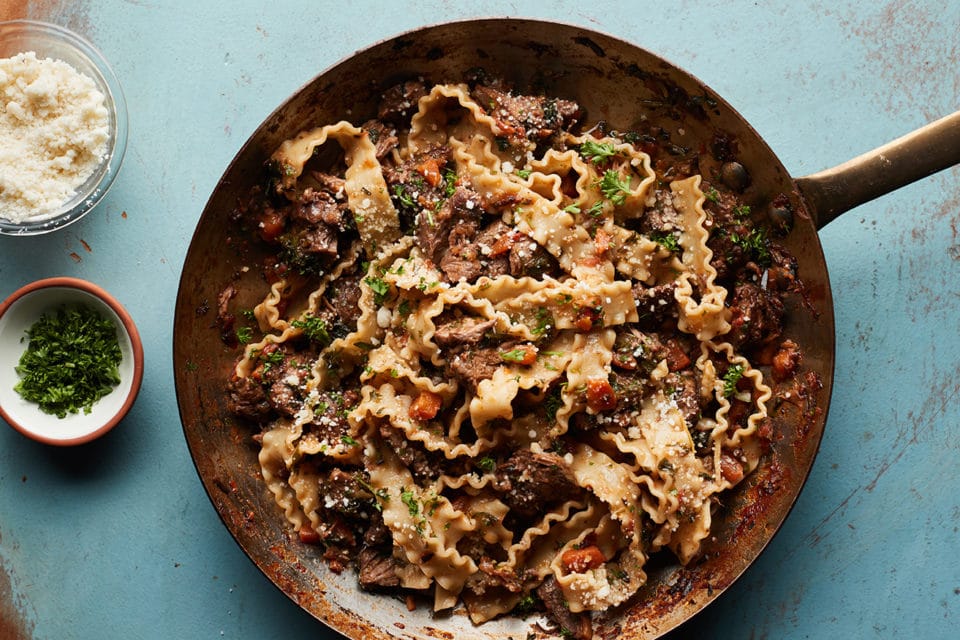 Main Dishes
Lamb Ragù
Author: Alex Bourgidu
Serves: 4
This hearty sauce is savory with melt-in-your-mouth shredded lamb that is perfect atop pasta, rice, or polenta.
Pasta
Pesto Farfalle
Author: Julie Rylander
The pasta I've used here, farfalle, means "butterfly", and the thicker texture is a good balance for the sweet and flavorful classic pesto.