Portland Pet Food Company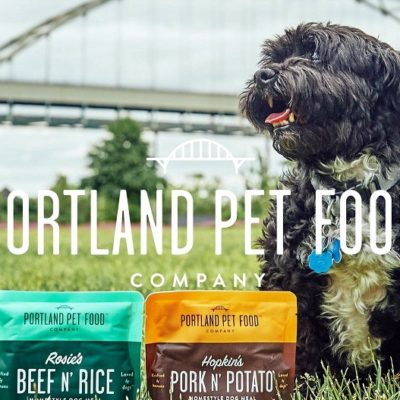 After spending 20 years as a health communications consultant, Katie McCarron started looking at the nutrition and diet of her aging, standard poodle, Rosie. Rosie no longer enjoyed canned food and was losing weight. When Katie started looking into the number of unnatural supplements in basic dog food, she was shocked. She began cooking Rosie's meals at home and focusing on locally sourced, natural ingredients when doing so. Rosie began regaining the weight she had lost, and Katie expanded to making both meals and dog biscuits, and Portland Pet Food Company was born!
Portland Pet Food believes in feeding dogs like we feed ourselves. They work with the Oregon Food Innovation Program to develop sustainable, local, and AAFCO (Association of American Feed Control Officials) regulated products. They also partner with companies in the Pacific Northwest to ensure that all the food is 100% sourced and made in the United States. They hand roll and cut each dog biscuit and cook each meal from scratch.
Throughout the last two years the line of dog treats has expanded to shelf-stable meal toppers. They are the first of their kind, ready to serve, shelf-stable pouch meals that work as dry food toppers, soft treats, or a meal on their own.  They are great for the finicky dog, elderly dog who has lost interest in eating, and for active dogs who are on the go. Serve at home or toss in a backpack when hiking, camping or traveling.
Katie never compromises the quality of the product, and you will never find preservatives or additives in Portland Pet Food. Have a gluten free pup? Portland Pet Food even creates wheat and gluten free biscuits!  Portland Pet Food Company is aiming to change the demographic patterns of dog owners looking for a simple nutrition label without preservatives and additives, just like they do for their own food!
Katie, along with her husband David, daughter Maggie, and son Matt, work together to create and provide the highest quality food for dogs!
Learn more about Portland Pet Food Company.