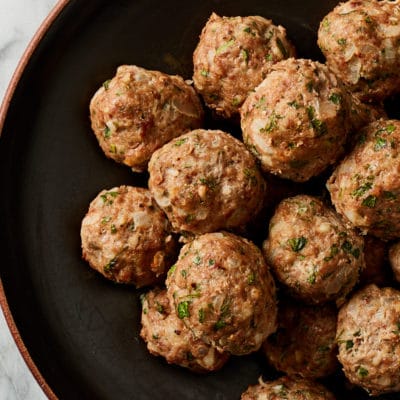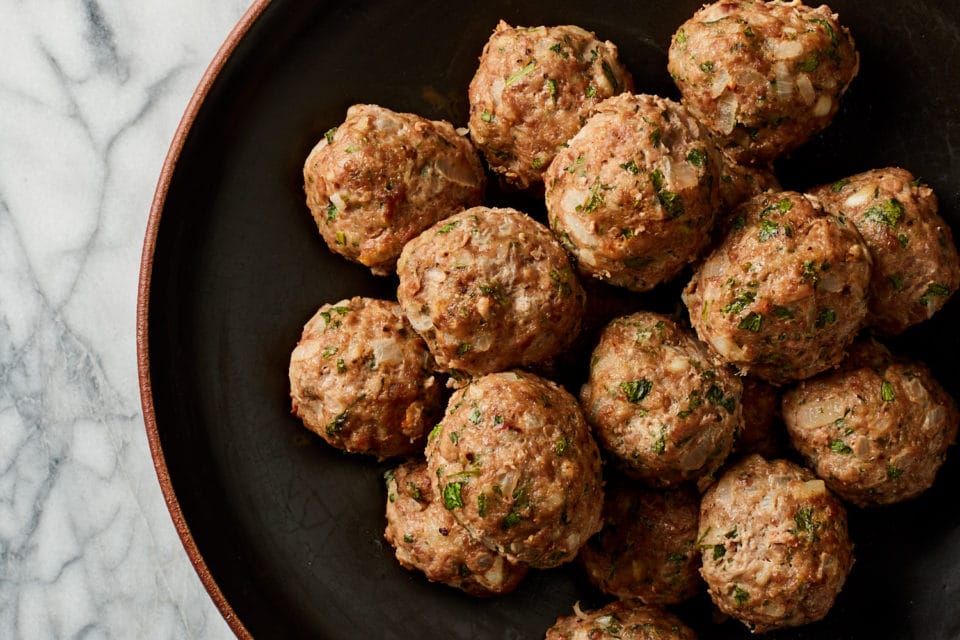 These veal & lamb meatballs featuring fresh herbs make for a flavorful dish or appetizer. Tapioca flour is used in substitution for breadcrumbs to make them gluten-free.
Ingredients
3 T olive oil
1 1/2 white onion, finely diced
4 cloves garlic, finely chopped
1 lb ground veal
1 lb ground lamb
2 eggs
1 bunch Italian parsley leaves, finely chopped
1 T fresh thyme leaves, finely chopped
1 t fresh marjoram, finely chopped
2 t salt
1 t freshly ground pepper
2 T tapioca flour
Preparation
Heat olive oil in skillet.
Add onions and cook until they are soft and translucent.
Add garlic and cook for 2 more minutes. Remove from heat and set aside.
Mix together the ground veal & lamb in a large bowl and make a well in the center with your hands.
Add the eggs and mix with hands until completely incorporated.
Add in the onions and garlic, parsley, thyme, marjoram, salt & pepper. Mix well.
Add the tapioca flour and mix well again.
Form mixture into 2-3 oz balls and place on an oiled sheet pan.
Bake at 350° degrees for about 15-20 minutes.