Strawberries: there's nothing like them! And now, it's time for local strawberries. These little local red beauties come from Sauvie Island at Columbia Farms and gonzalez farms and they're sweet, delicious, and scream that it's almost summertime!
Because Oregon strawberries need warm sunshine and aren't picked when it's wet outside, you will see our local strawberry inventory fluctuate throughout the season. Currently, we have the Sweet Sunrise Strawberries, known for their balanced sweetness, this early season varietal produces medium to large-sized firm strawberries with a deep, dark red color throughout. We also have Albion Strawberries, which are cone-like in shape, bright red, and surprisingly sweet. Next, we will get Oregon Hood Strawberries. Hood's are the gold standard in sweet, juicy flavor among Oregon Strawberry lovers. They are available for an extremely short window of time. Medium in size, Hood's are known for their high sugar content and deep red color throughout. When they are ripe they are much softer than other varieties and need to be eaten quickly. We will also get Mary's Peak Strawberries later in the season. One of the newest varieties of Oregon Strawberries, these are medium-large size with a deep red color, firm and flavorful.
Strawberry facts:
Usually, medium or small berries have better eating quality than large ones.
Strawberries don't ripen after they have been harvested, so choose berries that have been picked fully ripened.
Ripe berries should have a bright red color, natural shine, and fresh-looking green caps. The fresher the berries are, the more they shine and the more fragrant they are.
There are many different varieties of strawberries, the most popular being the Hood berry.
Oregon strawberries have a short shelf life and are not grown to travel long distances.
Strawberry care:
Due to the short shelf life, local strawberries should be used the day or day after you buy them.
Store in a colander in the fridge – this allows the cold air to circulate around them. Don't cover them.
Leave the caps (stems) on the strawberries until ready to eat or use in a recipe.
Remove the caps from the berries only after washing – the caps keep the water from breaking down the texture & flavor inside the strawberry.
For best flavor, don't wash the strawberries until you're ready to eat or use them – moisture is the enemy.
Strawberries taste better at room temperature, so remove from the fridge about 1 hour before using.
Strawberry preparation:
Serve by rinsing (with caps attached) under a gentle spray of cool water, then pat dry with a paper towel.
Tip: Place in a salad spinner to remove excess water.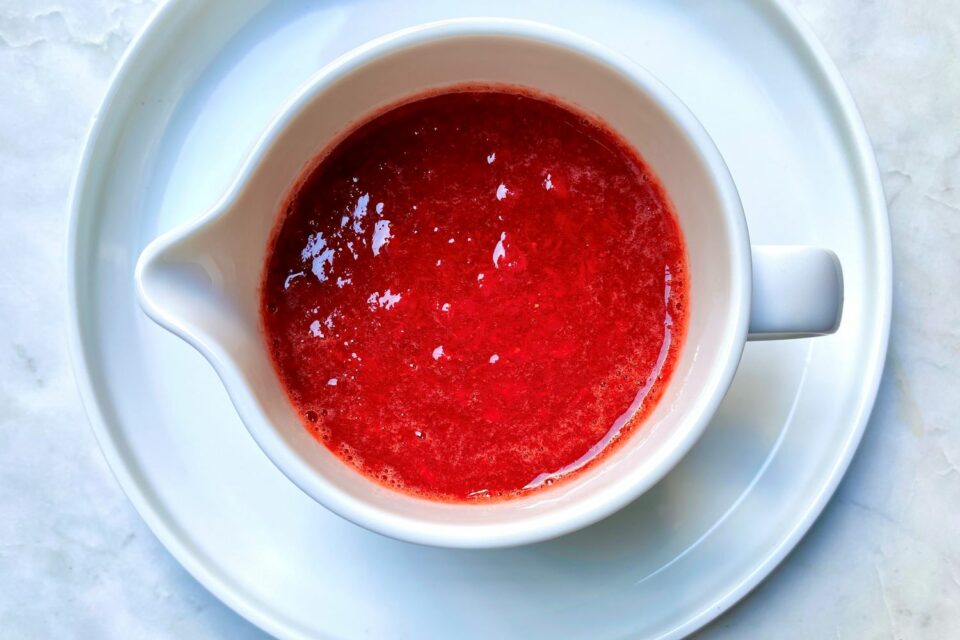 Berries
Fresh Strawberry Sauce
Author: Judiaann Woo
Serves: 1 pint
A quicky & easy two ingredient strawberry sauce to sweeten up any dessert!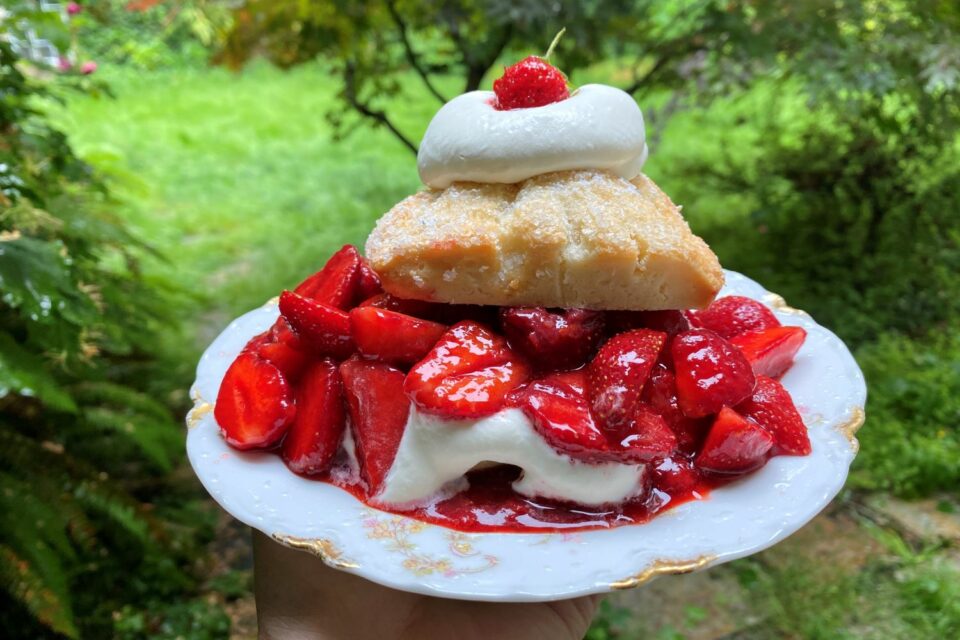 Berries
Strawberry Shortcake
Author: Judiaann Woo
Serves: 2
Is there any more quintessential strawberry dessert than strawberry shortcake?