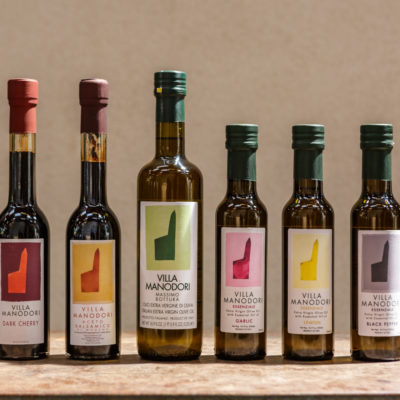 This collection of artisan extra virgin olive oils and balsamic vinegars is created by three-star Michelin chef Massimo Bottura of the legendary Osteria Francescana in Modena, Italy. Created in limited quantities, choose from a selection single oils, infused oils & balsamics that offer a diverse flavor profiles.
Villa Manodori Essenziale infused olive oil collection features lemon, black pepper & garlic. These extra virgin olive oils are combined with 100% natural essential plant oils and perfect for cooking and flavoring meat, fish, vegetables, greens and cheese dishes. Best known for aromatherapy and homeopathy, Chef Bottura uses essential oils in the kitchen of his Michelin-starred Osteria Francescana to add naturally intense flavor and long lasting freshness to cooked and raw foods.
Villa Manodori balsamicos are created from Trebbiano grapes and aged in a series of oak, chestnut and juniper barrels for nine years. The result is a rich, sweet & tart balsamic with a thick, syrupy consistency. Perfect as a glaze for steak, pork and poultry or drizzled over greens, vegetables and aged cheese. The dark cherry variety is longer aged in the wood of dark sour cherry trees, resulting in a balsamic that is infused with luscious cherry flavor. Try drizzled over vanilla ice cream or crème brulee for a luxurious dessert. Perfect also to marinate meat or pair with roasted pork, lamb or peppery greens.