Vinegar, aptly translating to "sour wine", is a simple yet multifunctional asset to any kitchen. From everyday sherry vinegar to luxurious, 30 year aged balsamic, the world of vinegars is expansive ranging from sweet and syrupy to bright and acidic.
Vinegar is made through two periods of fermentation: alcoholic fermentation and acetic fermentation. Through these steps, sugar is converted into alcohol, which is then converted into acid. The end product can be used for drizzling, marinating, cooking, pickling and so much more. Certain varieties of vinegar are best used in different applications. For example, have you ever drizzled balsamic vinegar on vanilla ice cream? We'd recommend it. But we wouldn't recommend champagne vinegar as a sundae topping.
Vinegar is best stored in a cool, dry place, away from sunlight. Improperly stored vinegar will show changes in appearance and taste. It is important to know what to look for when choosing which vinegar is the right choice. Learn more about the vinegars at Zupan's Markets below.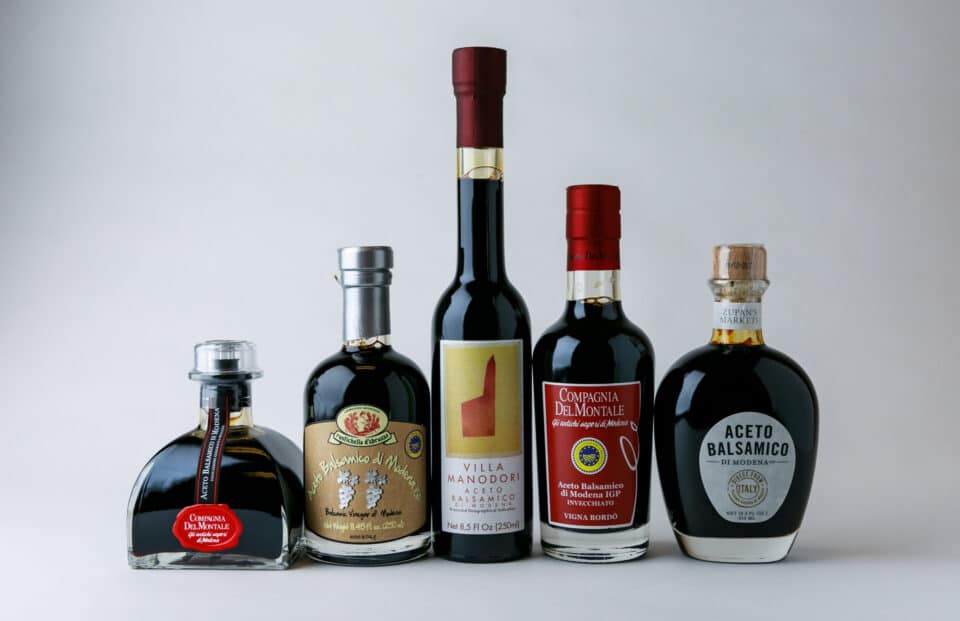 Balsamic Vinegar
Balsamic vinegar ranges from a kitchen staple for salad dressings to a gourmet delicacy topping. Known for its acidity and powerful taste, balsamic vinegar is highly renowned across the culinary world.
How balsamic vinegar is made 
Balsamic vinegar is made from three factors: grape must, heat, and wood. Grapes –typically Lambrusco or Trebbiano varieties - are harvested late in the season and whole-cluster pressed to extract the must. This grape must is then cooked directly over a flame until reduced to half the original amount. From reduction, the remaining grape must ferments for a few weeks and is then transferred to wooden barrels to mature over the course of many years. Each year, new grape must is added to existing barrels as the barrels are tapped. 
The two most important factors in determining the quality of balsamic vinegar is the age and the house. Age, of course, is the time the balsamic vinegar has matured. The house refers to who the balsamic vinegar was made by. Much like true champagne, a long and exclusive history of balsamic vinegar has produced tried and true houses that produce quality balsamic vinegar. 
Featuring Compagnia Del Montale, Rustichella d'Abruzzo, Villa Manodori, and Zupan's Private Label Balsamic Vinegar.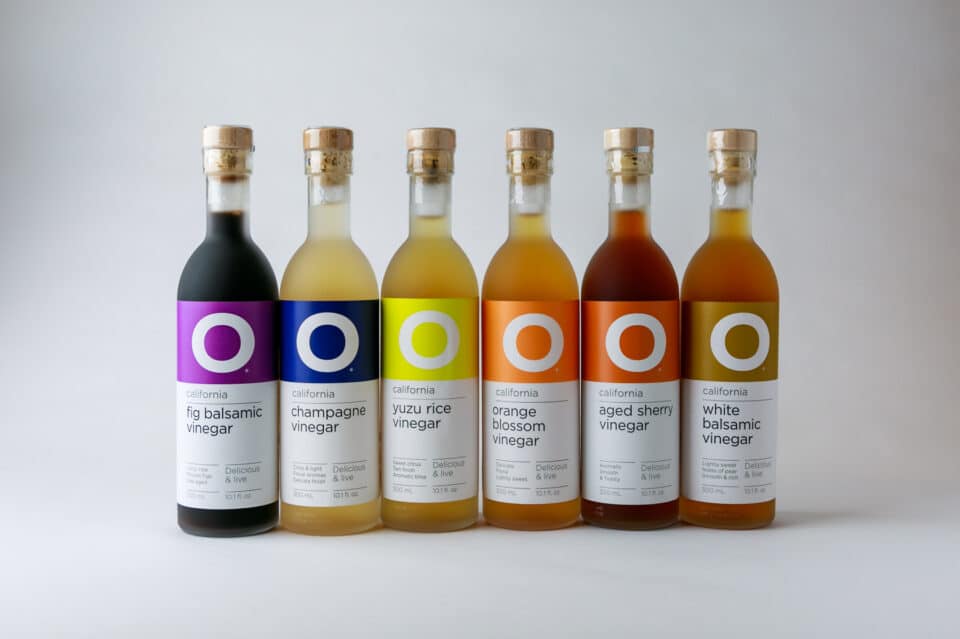 o vinegar
Made in the heart of California's wine region, O Vinegars feature a variety of crisp and complex flavors in almost every vinegar variety. Created at their state-of-the-art vinegar fermentation in Petaluma, O engages the old-world method of natural aging in wood barrels and stainless steel tanks to make their award winning artisan wine vinegar in fresh California style.
Best uses include flavored salad dressings, marinades and pan sauces.
Featuring Fig Balsamic, Champagne, Yuzu Rice, Orange Blossom, Aged Sherry, and White Balsamic Vinegar.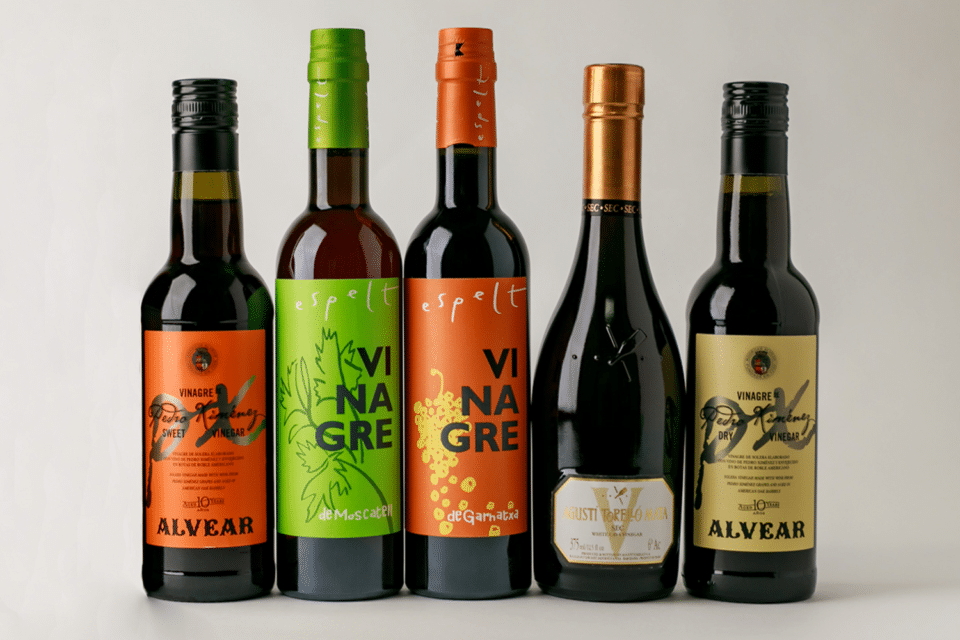 Spanish vinegar
Known primarily for wine vinegars, Spanish vinegar is powerful and flavorful. From sweet sherry to dry cava vinegar, Spanish vinegars are great for drizzling as a topping on savory dishes.
Spain is a country famed for its wines, so as you would expect it also has some excellent wine vinegars! As balsamic is to Italy, wine vinegars are to Spain. It's most famous vinegar is from Jerez, the home of oak cask aged sherry. It is surprisingly dry and complex, a dynamic alternative to the sweet balsamics on the market. We also offer some excellent aged sherry vinegars, along with sweet Pedro Ximenez vinegar. Finding a quality Spanish vinegar is not hard to do, as the country holds three of the five protected designation of origins Europe has established for vinegars.
Featuring Pedro Ximinez Sweet Vinegar & Dry Vinegar, Espelt Moscatell and Garnatxa, and Agusti Torello Mata Dry Cava Vinegar.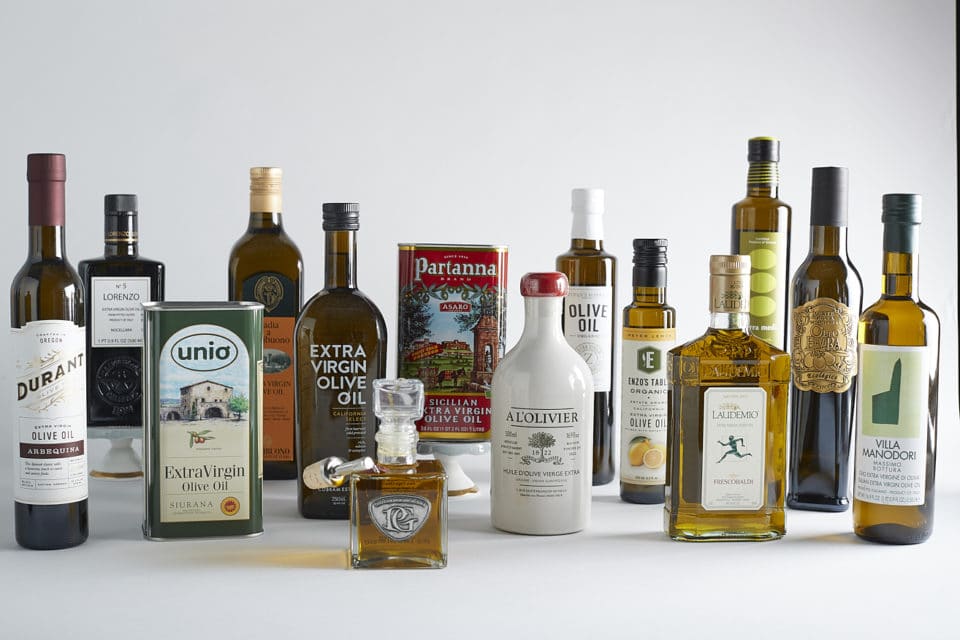 Featured Items
Olive Oil
Learn more about the over 75 unique olives oils we carry in our store.