Handcrafted in Molalla, Goldin Artisan Goat Cheese features traditional French-style farmstead cheese.
Carine Goldin grew up in Mouxy in the Savoie region of northern France in the foothills of the Alps. Her grandmother, a lifelong cheese connoisseur, encouraged her passion for cheese and Carine loved visiting farms in remote villages to buy unique farmstead cheeses.
After moving to the U.S., Carine discovered a lack of rich artisan cheeses and began making her own cheese at home. Unable to find a good supply of fresh goats' milk or cultures, she fulfilled her dream of purchasing a goat farm in 2004 near Molalla in the Cascade foothills. In June 2009 her farm was certified by the Oregon Department of Agriculture as a grade "A" dairy and cheesemaking facility, making Goldin Artisan Goat Cheese official.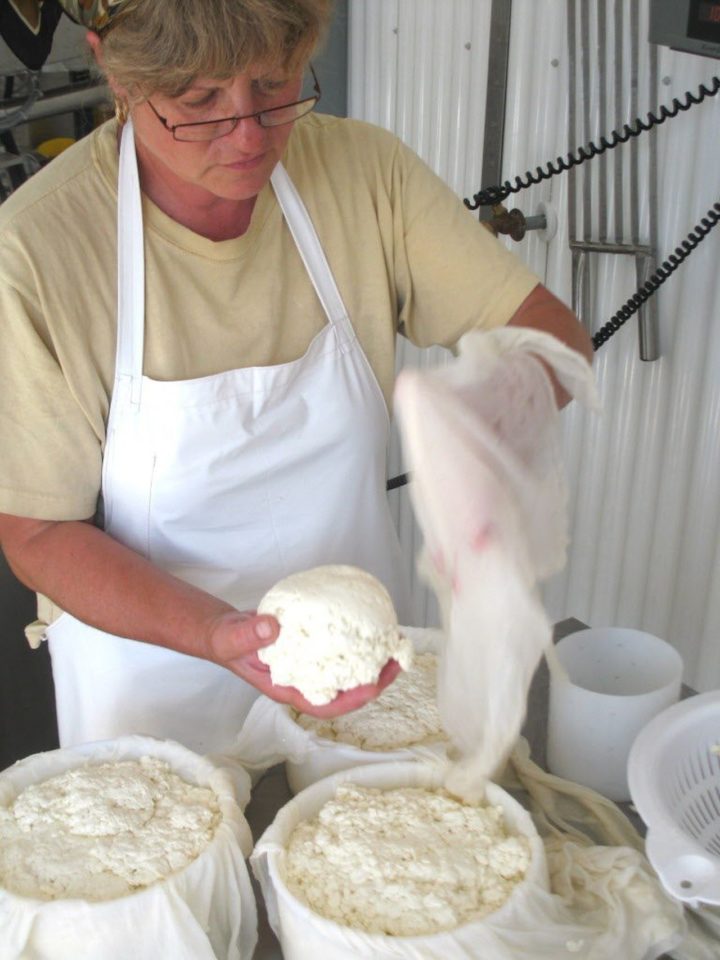 Goldin cheese crafts French-style cheese in small batches from the high-quality milk from her small resident Alpine herd, which is influenced by the local soil and climate of the Pacific Northwest. The goats graze on pasture and brush and are fed Eastern Oregon premium alfalfa, known for its high selenium and calcium content. Their grain mixture is free from hormones and antibiotics. The goats love human contact and even recognize their own names!
Featured Cheese:
Certoux: Winner at the "2012 Good Food Award" in San Francisco. The name certuox is a word of the Savoie region of France meaning cellar. This cheese is a semi-soft paste with a naturally aged and complex rind. It has a rich flavor with a pleasantly tangy taste.
Tomme de Sawtell: Winner at the "2015 Good Food Award" in San Francisco and 3rd place winner at the 2009 ADGA Cheese competition in Buffalo, New York. This is a fruity tomme with hints of mushroom and mineral flavors. It is a rich cheese with varied rind pigmentation that changes with the seasons. A great cheese to snack on, pair with Pinot Gris, rustic bread, and fruit!
Cascadian Frechette (Macadam only): Finalist at the "2011 Good Food Award" in San Francisco. The delicate rind of this cheese has been washed several times during its aging and takes on a pale cream color marbled with mold. This is a semi-soft cheese that offers a medium distinctive and complex flavor.
Learn more about Goldin Artisan Goat Cheese.