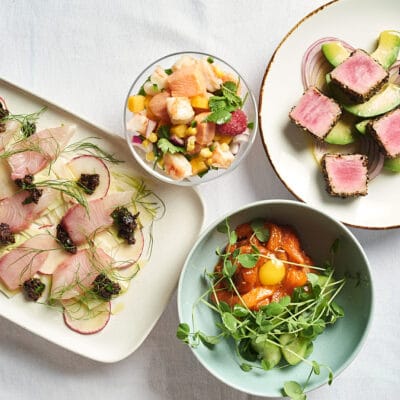 Sashimi Grade Fish is available daily in our seafood department.
Perfect for summer's warmer weather, our sashimi-grade fish is carefully selected, tracked, and handled with the utmost care for your favorite raw preparations. From crudo and ceviche to tartare and sushi, let us inspire your next summer meal.

King Salmon
Mild, rich and smooth. Organically raised in British Columbia by Creative Salmon.
Sustainably raised: Canada
Baja Kanpachi
Firm, rich & buttery. Sustainably raised in the pristine waters of the Sea of Cortez.
Sustainably raised: Mexico
Columbia River Steelhead
Firm, buttery and sweet.
Sustainably raised: Oregon
Yellowfin Ahi Tuna
Mild & meaty.
Wild: South Pacific