Fresh in our seafood case, Zupan's Markets is proud to carry local Columbia River Steelhead. Featuring vibrant red flesh, this fish is available year-round and is high in protein and rich in Omega-3 heart-healthy acids. Steelhead while a trout, very much resembles salmon, with a milder taste and less fat. Sustainably farm-raised in the Colville Nation on the beautiful Washington side of the Columbia River, this fish is all-natural fed and is free of antibiotics, pesticides, and hormones.
Our seafood supplier Pacific Seafood manages this farm and partners with the Native American Colville Tribe, where they pay a royalty to use the land, in addition to employing many tribe members to help raise the steelhead.
You will notice on the label when purchasing steelhead the phrase "color added." No this isn't red dye no. 5. Just like we in the Pacific Northwest take Vitamin-D during the winter due to our lack of sun exposure, farmed fish receive the carotenoid (a natural pigment found in plants and algae that is responsible for bright red, yellow and orange colors) pigment called astaxanthin in their feed. Wild salmon receive this pigment by eating krill and other crustaceans. Our steelhead receive this identical all-natural pigment as part of their feed. Unlike other white fish, steelhead and salmon retain this red color within their flesh. This carotenoid pigment is a powerful antioxidant and without it, the fish would not survive.
Pacific Seafood's Columbia River steelhead program has been recognized by the Monterey Bay Aquarium's Seafood Watch Program with a "Best Choice" (green) designation, which means the fish is well managed and caught or farmed in ways that cause little harm to habitats or other wildlife. Pacific Seafood's Steelhead Farm also was the first steelhead/salmon farm to be certified by the Best Aquaculture Practices (BAP), in the USA. This third-party certification program helps to ensure the aquaculture industry rises to the highest level of food safety, animal welfare, social accountability, and environmental stewardship.
While we at Zupan's Markets have always believed that wild fish is the best, the fact of the matter is that our world is facing a reduced supply in wild-caught fish. Due to this fact, we have begun to source high-quality, sustainably-farmed seafood options in addition to our wild fish offerings in our Seafood Department.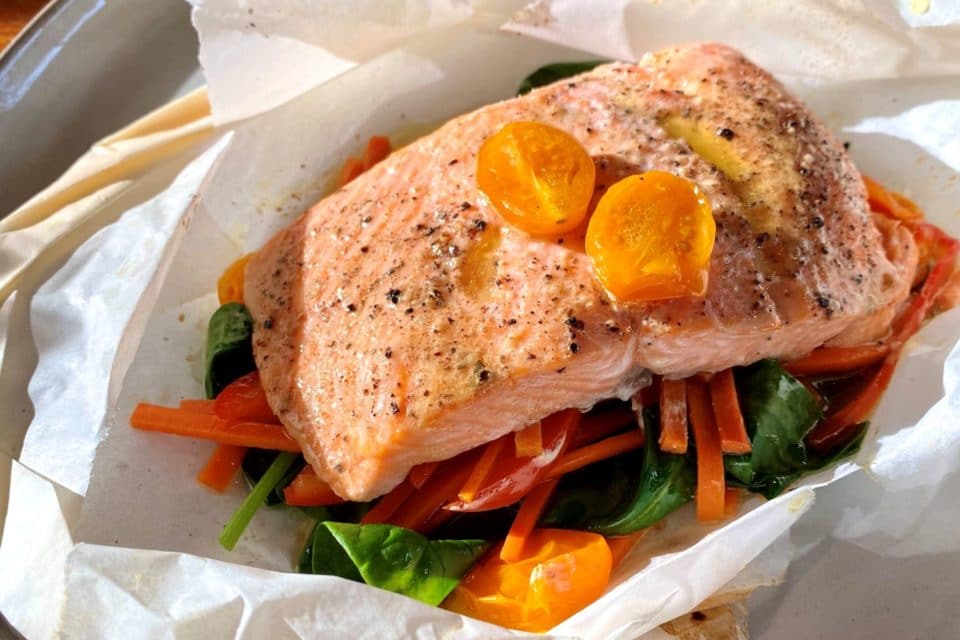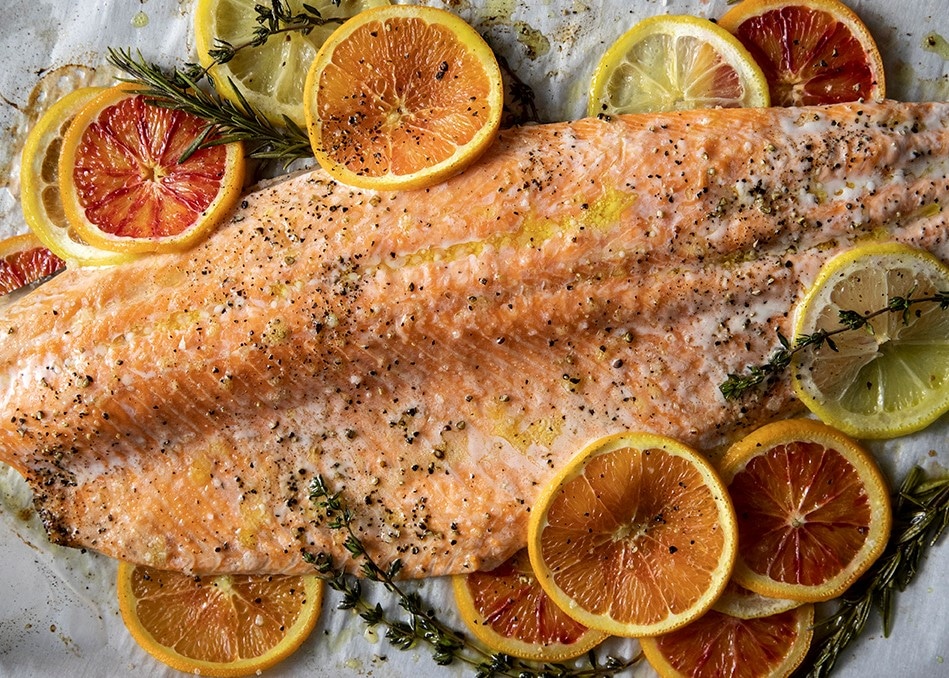 Seafood
Citrus Baked Steelhead
Author: Elisha Joyce
Serves: 4-6
Featuring Cara Cara and Blood oranges, lemon, rosemary & thyme.